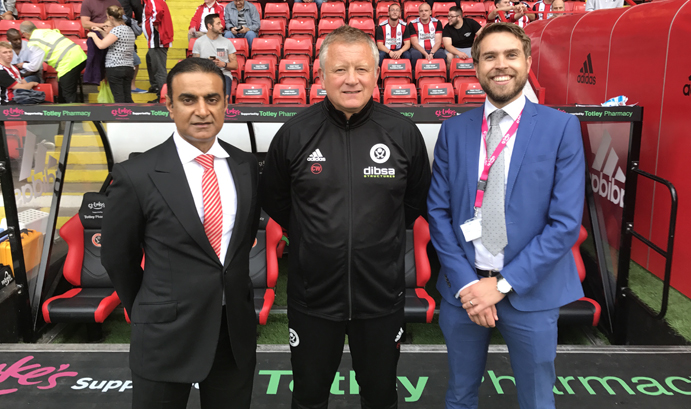 Totley Pharmacy & Sheffield United in partnership have been helping raise the profile of St Luke's this season through a new sponsorship. This partnership has also raised over £7,000 for St Luke's; funds for patient care which will help them continue their wonderful work. At Totley Pharmacy, we are very proud to support St Luke's who share our core values of providing the very best care. In an exciting season for Sheffield United with many television appearances and lots of media coverage, St Luke's profile has benefitted hugely both locally and nationally which we hope will lead to increased donations.
"This support has come in many different ways, including match day collections, auction prize donations and trust gifts," said St Luke's Corporate Fundraising Manager Jack Kidder.
"But Tajinder's tireless enthusiasm has also given us many more fundraising opportunities, including match day hospitality opportunities for our supporters and even the chance to launch a donation station at the Totley Pharmacy store, giving St Luke's even greater access to the community in Totley and Dore. The funds will make an enormous difference to the lives of St Luke's patients and their families and we look forward to continuing and developing this relationship."
"With my Sheffield United Vice-President's hat on, I am very proud of the work the club and the McCabe Family do to support local institutions like St Luke's, and would like to thank them for their help," said Tajinder Singh, owner of Totley Pharmacy.