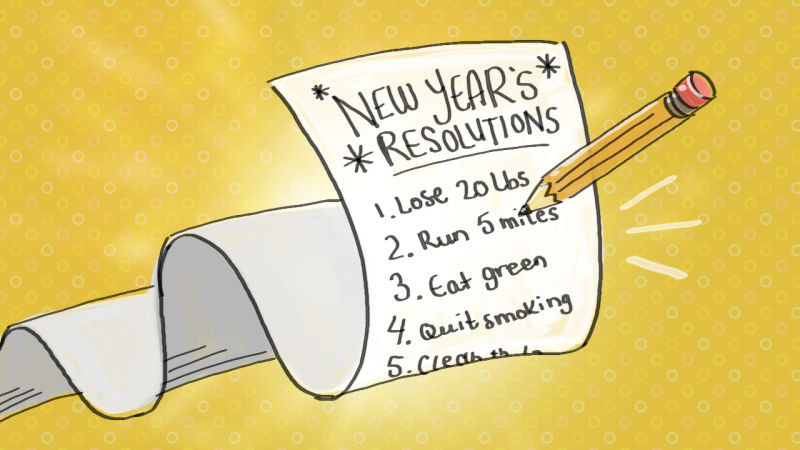 New year resolutions aren't new — apparently the practice dates back to the Babylonians, whose Akitu festival was centred on praying to the gods for a happier, healthier year ahead. You are likely to be reading this article a few weeks into 2019, so it may seem strange to be talking about New Year's resolutions. However, while I hope you are still on track to achieving success, for most people all the good intentions are likely to have faded and they will have failed to maintain the change they actioned. Congratulations if you are still on track, but do not worry if you have failed - there are a few reasons why you are likely to fail.
January is the month we are least likely to make significant changes and stick to them, especially when the change is difficult or involves giving up something we enjoy. The miserable, cold weather does not help, but also January can be very stressful and depressing especially post Christmas and going back to work after an extended break - dealing with an inbox full of emails after the break, and a seemingly never-ending credit card bill is likely to break your resolve. With this in mind, now may be a better time to attack the problems with renewed vigour.
The most common resolutions last year were
To lose weight
To exercise more
To save money
To sleep more
To stop smoking
At Totley Pharmacy, we are always trying to help our patients improve their health and achieve their goals. Here are our suggestions on how to make the goals listed above achievable.
Losing Weight
Losing weight is achieved by consuming less calories than we use, but this process can be made more efficient depending on which foods you eat. Please call in for advice about constructing a diet plan, and for information about the Meal Replacement Products we stock. Our Meal Replacement Products are high quality products low in sugar and high in protein, and so make achieving your goals easier and more likely. We also stock other supplements which can assist with weight loss.
Another option which is finally gaining mainstream coverage is the use of Very Low Calorie Diets. Not only are these the quickest and most efficient way of losing weight, but also very beneficial for your health especially in terms of diabetes and your heart. We have been running this program for over a decade now, and will guide you through it.
Exercise more
The average person should undertake 150 minutes per week of moderate exercise or 75minutes of vigorous exercise or a combination of both. Moderate exercise consists of activities such as brisk walking or swimming and vigorous exercise consists of activities such as running, cycling or playing tennis.
The benefits of exercise are enormous for your health so please do try to stick with this one. When exercising you increase your chances of injuries, so if you have picked up a niggle or strain, pop in to see us for advice and treatments.
Save Money
We are not financial experts so all we can do to help you is run regular promotions on everyday toiletries. Keep an eye out for our offers in-store when you are collecting your prescriptions, and also on our social media streams such as Facebook.People perceive local independent stores to be more expensive, but if you compare our prices with the larger chemists and supermarkets for toiletries, we are usually cheaper.
Sleep more
Sleep hygiene is very important for functioning day to day. It also helps relieve stress and can also help with back pain; sleeping better can also adjust your hormones to help weight loss. Getting more sleep might be difficult if you've been stuck in a routine and have bad sleep hygiene. Our pharmacists can advise on sleep hygiene as well as offer products which may help sleep patterns. Pop into our pharmacy for more information.
Stopping smoking
Despite the presence of a vaping shop on seemingly every corner, pharmacists are still the only qualified healthcare professionals who can sell you products to help you quit smoking. While vaping is safer than smoking, it is not as healthy as stopping altogether, and many experts still have safety concerns, so vaping is not the ideal solution. Pop in to see us for advice about how best to quit, and a full range of options.
Reasons why you may not be keeping to resolutions
Most people often try to run before they can walk – make small changes rather than changing everything at the same time. Start small and slowly improve. Often, people like things done immediately but changing your lifestyle and routines isn't immediate.
Not enjoying the process – If you don't like what you're doing or how you're doing it then it's less likely that you'll keep it up.
Often people don't track their progress - if you see a change you're more likely to stick with it and be encouraged by it. You can pop in to have regular chats with our pharmacists to help keep you on track and motivated.