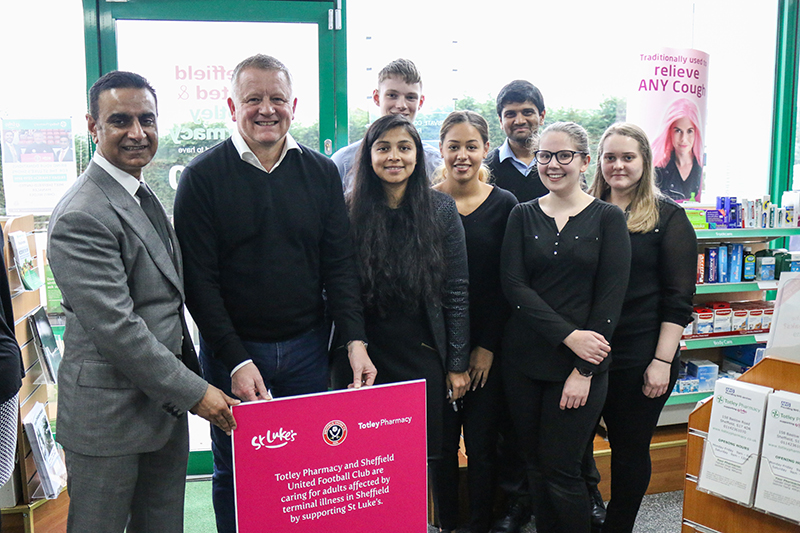 Totley Pharmacy's donation station for St Luke's Hospice was opened to the public on Friday by the Sheffield United boss.
This is the third year running that the Totley based pharmacy has supported St Luke's, a hospice specialising in care for terminally ill patients throughout Sheffield. It also marks the continued sponsorship of Sheffield United by Totley Pharmacy.
Chris Wilder, who has led United to promotion and continues to maintain a championship promotion push this season, described it as 'very important that we recognise local charities raising money for a good cause like this.'
He continued; "Being from Sheffield myself there's obviously a connection. Unfortunately, my father in law passed away a year and a half ago and spent his last days in St Luke's, so I know how special it is and what a fantastic job they do in the City of Sheffield and the surrounding areas of taking care of people in difficult times."
Many locals attended the opening of the fundraiser, contributing clothes and money, and looking for photo opportunities with their United hero. Patrick Connolly, a veteran Blades fan, thought it was 'fantastic' that Mr Wilder came here in the middle of the season.
Mr Connolly went on to say; "I have donated to St Luke's in the past, but this is another opportunity, and it's great to meet such a fantastic manager from the club I have supported for decades."
St Luke's hospice is heavily reliant on charity, only receiving 25% of its funding from the NHS. Peter Hartland, one of the hospice's chief executives, described events like these as 'integral,' and was 'grateful to every single person who contributes.'
Tajinder Singh, the owner of Totley pharmacy for the past 23 years is proud of their continued community work with local organisations and schools including funding a local walking football tournament.
Mr Singh stated; "As opposed to just being a business, we do try to make it about caring for the community, caring for people."