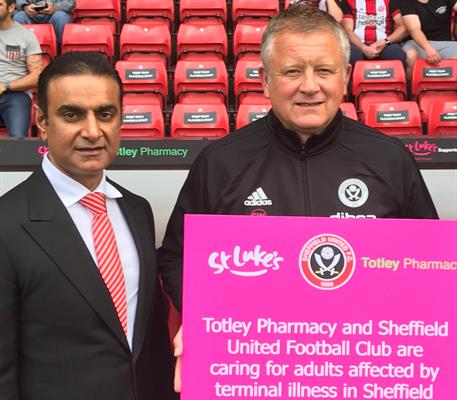 We are delighted and proud to announce that one of Sheffield's finest, Chris Wilder, will be at Totley Pharmacy to open a donation station for our charity partners St Luke's, which will be located within the pharmacy itself. The official opening will be at 3pm on March 1st and the event will be open to the public to attend and meet Chris. We would ask that anyone attending please bring along a donation to help St Luke's continue their incredible work for the people of Sheffield.
At Totley Pharmacy we are very proud to support St Luke's, a charity that supports our core values of providing the very best care, above and beyond the call of duty
We are opening this donation station as together with St Luke's, we feel it will give St Luke's much greater access to the community in Totley and surrounding areas. This will create extra fundraising opportunities as there is currently no venue in the area where the public can donate items. By dropping off unwanted items of clothing, books, DVDs, CDs, bric-a-brac and household items which will be sent to St Luke's shops, you will be raising valuable funds.
Furthermore we are delighted that Chris Wilder will be along to help us celebrate its launch on what should be a fantastic day. He and his family have received the support of St Luke's in the past so have first-hand knowledge of how important the charity's work is.
St Luke's Corporate Fundraising manager Jack Kidder added: "This is just one more great way that Totley Pharmacy has found to support the levels of care we give to all the people of Sheffield.
"We are confident that Totley Pharmacy's customers will find the donation station the perfect way to support St Luke's and that it will allow the local community to donate their retail items in a convenient manner. Thank you to the Totley Pharmacy team and Chris Wilder for his exceptional support"